Allied Instrument features Custom Hot Runner Cables to meet all your Hot Runner needs.  We have a large inventory of connectors for fast delivery. Custom Hot Runner cables can be made to match your application. If you have a conflict between your mold and control system, Allied Instrument can make a set of Hot Runner cables to match your application. If you have a short-term project and need to solve a mis-match between controller and mold, we can make adaptor cables to meet your needs. We use only the best components to manufacture our cables. Thermocouple cables are made using only stranded thermocouple wire to eliminate breakage to the wire due to flexing. All cables are clearly marked to eliminate any confusion when installing the cable assemblies.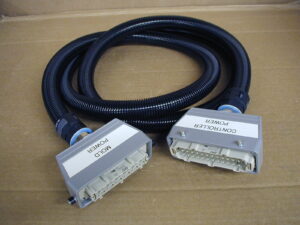 Epic Style Hot Runner Cable
The most popular style of cable, is the EPIC style Hot Runner Cable. We manufacture the EPIC style cables for use with all types of control systems like, Athena, DME, Fast Heat, Gammaflux, Husky, Incoe and more. Call us today for your application needs.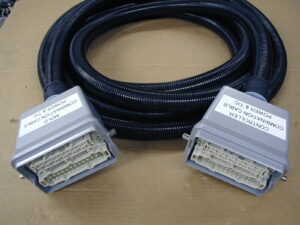 48 Pin Epic Hot Runner Cable
48 Pin cables are available for use with Gammaflux, Husky, Mold Masters or any application where 48 pin connectors are required. All power and thermocouple cables come clearly marked to eliminate any confusion when installing the cables.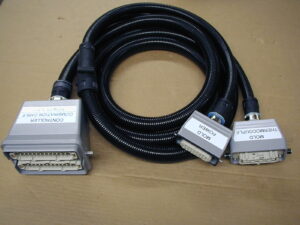 "Y" Combination Cable 
'Y' cables allow you to combine power and thermocouple cables into one connector for use with Husky, Mold Master, Gammaflux or wherever you need to combine two different cables together. With the use of special fittings we can make clean connections to either combine or separate zones between connectors.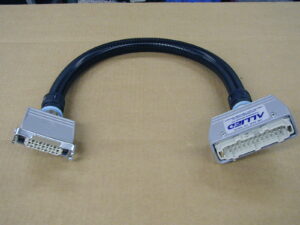 Adaptor Cable Assembly
Jumper cables can be used to convert any cable end to a different style of connector.  Generally used for short term use to provide a connection to a short run mold.  This can be done by using a cable to cable connector and putting the cable ends together.  Please give us a call and we can discuss your options.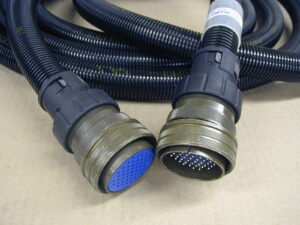 Amphenol Style Hot Runner Cable
We manufacture Amphenol Style Hot Runner Cables for use in high density applications. Our technicians solder the connectors with precision to ensure clean and secure connections that will not fail.  
Stacker Hot Runner Cable
Stacker cables are available at Allied instrument. We have the special cable hoods and connectors available to reduce delivery times. All cables are made to order so any length is available. 
We repair all types of hot runner cables!
Give us a call today: (708) 788-1912
or email: sales@alliedinstrument.com